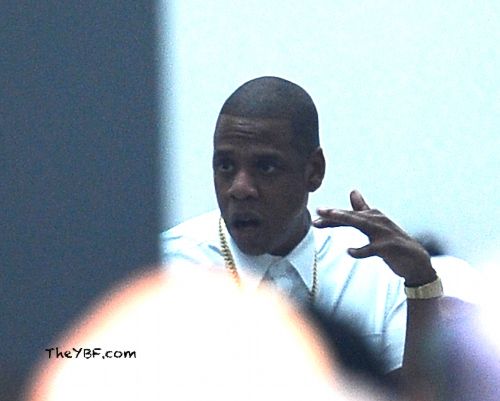 Jay-Z said he's about those #NewRules, and he's doing just that. Instead of only sticking to traditional promo routes for his new album Magna Carta Holy Grail, he continues with the out of the box occurrences. Bring on the performance art.
You probably already know all about his random six consecutive hours of rapping his track "Picasso Baby" inside the Pace Art Gallery in NYC in front of a gathering audience, but here's the most random ish we noticed while all that went down yesterday….
1. While Jay was on his whatever hours of rapping "Picasso Baby", some lady….with a cast on one leg…and on a scooter….took off riding around Jay's performance area and kinda threw him off. Hilar.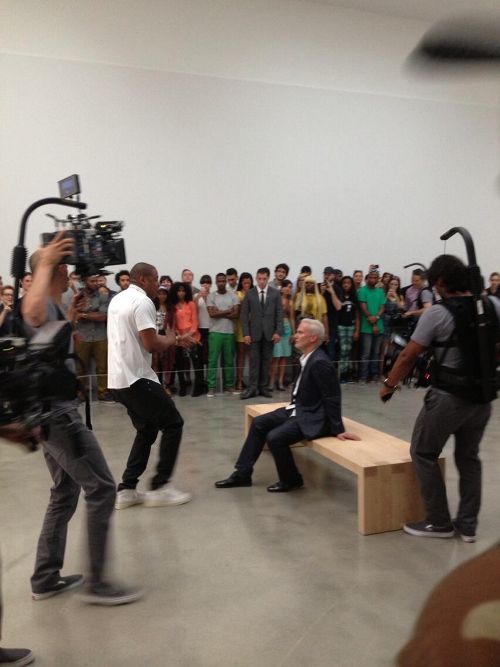 2. Jay pulled the most random of people to serenade his raps to…including this one buttoned up, silver haired artistic guy who probably was just praying this wasn't an episode of "Boiling Points."
3. Fab Five Freddy randomly popped up and was rapped to by Jay….but who is this random break dancer who got past the clear barricades?
4. The kids weren't left out. Jay serenaded a couple little boys & little girls…and one blonde haired kid got crowned with Hov's Roc chain.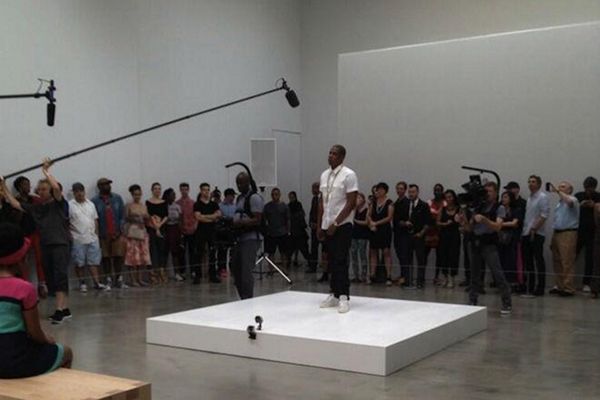 Wale and director Judd Apatow showed up to offer up some support as well. This whole 6-hour stint was video taped and will be turned into a music video for the song.
The Randomness:
1. Young Money rapper Lil Twist, Justin Bieber's hanger-on, just copped a DUI….while driving Justin's chrome Fisker Karma. STORY
Photos & Vines: @toure's Twitter, @rcembales' Twitter, @Hypetrak's Twitter, @Cedar's Vine